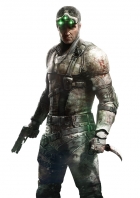 The following description of Sam Fisher was written by Richard Dansky, the screenwriter for Splinter Cell: Conviction and Splinter Cell: Blacklist, around the time he was writing Conviction.
"The tagline you've been hearing a lot is 'The Sam Fisher you knew is dead', and that's for a reason. In a lot of ways, this is a completely new Sam. He's a logical evolution from the guy that he was in the previous games, because what he did and what he's seen have had an effect on him. It's great to have a hero who's this unchanging cipher, but consider what Sam's gone through: Sarah's death, Lambert's shooting, walking away from his career, having everything he's done and sacrificed questioned. To go through all of that and not change would be unbelievable. Sam had to evolve to remain true to the franchise. To have frozen him in amber would have been a disservice to everything that had gone before.
Sam Fisher Brainwaves
5th September, 1 replies

Stealth games have had a resurgence as of late. Series like Metal Gear have kept the genre trucking along,...
Share Sam Fisher with others