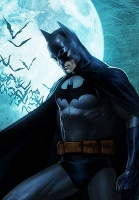 Edit Character
Batman is a superhero from the DC Comics universe, co-created by Bob Kane and Bill Finger, and his first appearance was in Detective Comics #27, which came out in May of 1939. The alter ego of Bruce Wayne, he became Batman after witnessing his parents murder by a mugger. Although he doesn't have any superpowers, Batman relies on brains, brawn, wealth, and technology to take down crime and his enemies.
As a superhero, there have been many different media releases starring Batman, ranging from books, films, games, and more. He has also appeared in a plethora of other games based on the DC Universe, such as Mortal Kombat vs. DC Universe, Injustice: Gods Among Us, and DC Universe Online, among others. He is considered one of the more popular superheroes, having spawned numerous movies, television shows and cartoons.
Batman Brainwaves
19th October, 0 replies

Gamers in the United Kingdom who were looking forward to playing Batman: Arkham Origins on Wii U or through...

16th October, 0 replies

With only about two weeks left until launch, it was a little surprising that Batman: Arkham Origins was...

14th October, 0 replies

Given its popularity, you would think the Metroidvania genre would have many more mainstream titles under...