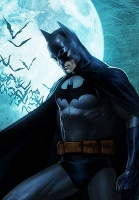 Batman is a superhero from the DC Comics universe, co-created by Bob Kane and Bill Finger, and his first appearance was in Detective Comics #27, which came out in May of 1939. The alter ego of Bruce Wayne, he became Batman after witnessing his parents murder by a mugger. Although he doesn't have any superpowers, Batman relies on brains, brawn, wealth, and technology to take down crime and his enemies.
As a superhero, there have been many different media releases starring Batman, ranging from books, films, games, and more. He has also appeared in a plethora of other games based on the DC Universe, such as Mortal Kombat vs. DC Universe, Injustice: Gods Among Us, and DC Universe Online, among others. He is considered one of the more popular superheroes, having spawned numerous movies, television shows and cartoons.
Batman Brainwaves
18 hours ago, 0 replies

It looks like Batman: Arkham Knight may have been pushed back to 2015. During WonderCon, at the DC All...

20 days ago, 0 replies

It seems that Gotham will have a spit of the English weather in the upcoming Arkham Knight game. A recent...

26th March, 0 replies

After writing about games on the internet for a few years, you find yourself going through different...