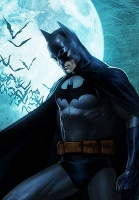 Batman is a superhero from the DC Comics universe, co-created by Bob Kane and Bill Finger. His first appearance was in the Detective Comics #27, which came out in May of 1939. The alter ego of Bruce Wayne, Batman came into existence after Wayne witnessed his parents murder by a mugger. Although he doesn't have any superpowers, Batman relies on brains, brawn, wealth, and technology to take down crime and his enemies.
Scarecrow has appeared in almost every form of media, as well as many video games based on the DC Universe. These include the video games based on the Batman movies, the Batman: Arkham series, Mortal Kombat vs. DC Universe, Injustice: Gods Among Us, and DC Universe Online, among others.
Batman Brainwaves
19 days ago, 0 replies

The pricing of Batman: Arkham Knight's Season Pass triggered a raft of criticism when it was revealed...

24 days ago, 1 replies

Warner Bros. and DC have announced the Batman: Arkham Knight Season Pass and the Premium Edition of the...

25 days ago, 1 replies

A new Batman: Arkham Knight trailer has landed. It shows off Catwoman, Nightwing, and Robin, all of whom...