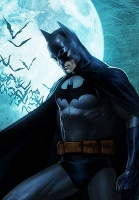 Batman is a superhero from the DC Comics universe, co-created by Bob Kane and Bill Finger. His first appearance was in the Detective Comics #27, which came out in May of 1939. The alter ego of Bruce Wayne, Batman came into existence after Wayne witnessed his parents murder by a mugger. Although he doesn't have any superpowers, Batman relies on brains, brawn, wealth, and technology to take down crime and his enemies.
Scarecrow has appeared in almost every form of media, as well as many video games based on the DC Universe. These include the video games based on the Batman movies, the Batman: Arkham series, Mortal Kombat vs. DC Universe, Injustice: Gods Among Us, and DC Universe Online, among others.
Batman Brainwaves
24th November, 0 replies

Rocksteady Games, the developers of Batman: Arkham Asylum and Batman: Arkham City have released a new...

9th September, 0 replies

Earlier this year it was announced that Sony had managed to get exclusive rights to Destiny in Japan....

23rd July, 0 replies

It seems that you may be able to play as Red Hood in the upcoming Batman: Arkham Knight, if this image...