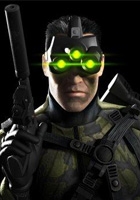 Splinter Cell is a series of stealth-oriented third person shooters developed by Ubisoft Montreal.
The player plays as Sam Fisher, an agent of Third Echelon (a subdivision of the NSA) who is often sent on difficult and dangerous missions involving dangers to the entire world. In recent games, however, Fisher works more independently, and this has been reflected by a move towards more action-based gameplay and a reduction of stealth.
Splinter Cell Brainwaves
20th March, 1 replies

Dear Hollywood, You are good at what you do. You make movie magic. Blockbusters, indies, novel adaptations,...

5th September, 1 replies

Stealth games have had a resurgence as of late. Series like Metal Gear have kept the genre trucking along,...

5th August, 0 replies

Nintendo's Wii U version of Splinter Cell: Blacklist will not offer the offline co-op experience, it...
Share Splinter Cell with others