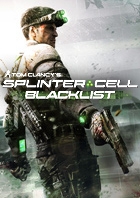 Step into the role of Sam Fisher as he tries to hunt down a group of terrorists and stop the deadly Blacklist countdown from reaching zero.
Tom Clancy's Splinter Cell: Blacklist Brainwaves
20th May, 0 replies

Sony is bringing out the big 'AAA' guns for its Extended Play Sale, which will run until May 26th. You...

25th June, 0 replies

Ubisoft has joined the summer sale party and the company is offering up to 75% off certain Wii U and...

2nd October, 1 replies

Tom Clancy, the spy thriller writer whose works have influenced entire franchises of video games, passed...
Share Tom Clancy's Splinter Cell: Blacklist with others
Tom Clancy's Splinter Cell: Blacklist