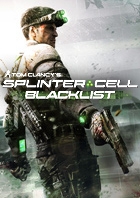 Step into the role of Sam Fisher as he tries to hunt down a group of terrorists and stop the deadly Blacklist countdown from reaching zero.
Tom Clancy's Splinter Cell: Blacklist Brainwaves
2nd October, 1 replies

Tom Clancy, the spy thriller writer whose works have influenced entire franchises of video games, passed...

5th September, 0 replies

Stealth games have had a resurgence as of late. Series like Metal Gear have kept the genre trucking along,...

5th August, 0 replies

Nintendo's Wii U version of Splinter Cell: Blacklist will not offer the offline co-op experience, it...
Share Tom Clancy's Splinter Cell: Blacklist with others
Tom Clancy's Splinter Cell: Blacklist