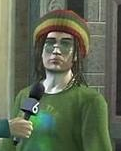 Veteran Child is a character from Saints Row, where he is a lieutenant in the Sons of Samedi gang. He is also a DJ that works at the nightclub, On Track, as well as the Gen-X radio station. He is not as ruthless as the other members of the Sons of Samedi, particularly their leader and his second-in-command. According to a list of voice actors for the game, he is set to appear in Saints Row IV.
Latest Games
Developed by Volition for WIN, PS3, X360

Saints Row 2 is a third-person open-world game developed by

Volition, Inc

for

Xbox 360

,

PlayStation 3

and

PC

. It was published by

THQ

in 2008 and is the second title in the

main series

. A mobile version of the game was made by G5 entertainment shortly before the original's release. Three pieces of DLC were also created for

Xbox 360

and

PlayStation 3

- Ultor Exposed, Corperate Warfare and The Unkut Pack.
Share Veteran Child with others