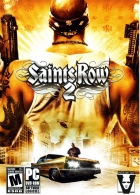 Saints Row 2 is a third-person open-world game developed by Volition, Inc for Xbox 360, PlayStation 3 and PC. It was published by THQ in 2008 and is the second title in the main series. A mobile version of the game was made by G5 entertainment shortly before the original's release. Three pieces of DLC were also created for Xbox 360 and PlayStation 3 - Ultor Exposed, Corperate Warfare and The Unkut Pack.
In the game, players control the nameless leader of the Third Street Saints gang who was hospitilsed for 5 years after the yacht expolsion in Saints Row. During this time, three rival gangs have become prolific in the city of Stilwater, so it's up to you to restore the Third Street Saints back to their former glory and diminish the influence of said gangs by any means necessary - a setup which will run players through a variety of different gameplay modes and vehicle types in the genre's archetypal anarchic fashion. Saints Row 2 builds on the original model with the implementation of more customisation and choice.
Saints Row 2 Brainwaves
14th October, 0 replies

It's been revealed that THQ was working with developers Heavy Iron Studios to create a Saints Row beat...
Share Saints Row 2 with others