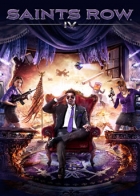 Saints Row IV is an action-adventure open world game that is developed by Volition and published by Deep Silver for the PC, PlayStation 3, and Xbox 360. The game is a sequel to Saints Row: The Third and the fourth in the Saints Row series.
The game follows the leader of the Third Street Saints as he becomes the President of the United States. However, an alien invasion occurs and the President is put into a simulation, along with citizens of Earth, where he must fight the aliens and return to his normal life in Steelport.
Saints Row IV Brainwaves
18 days ago, 0 replies

At their PAX Panel today, Volition (the creators of the Saints Row and Red Faction franchises) announced...

15th July, 0 replies

Volition, the development team behind Saints Row series of open world games, are expanding their team...
Share Saints Row IV with others