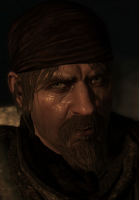 Viktor Reznov is a character from the Call of Duty series of games, having appeared as a major point in the two Black Ops games, as well as World at War. His intense hatred for the Germans, having killed his father, made him join the Red Army sometime before World War II. It is during the war that he meets Dimitri Petrenko, who he becomes companions with until Dimitri dies from Nova 6, while under orders from Dragovich and Kravchenko.
Although Reznov escaped while Dimitri died, he was captured and sent to Vorkuta, where he spent 18 years until Alex Mason arrives. Reznov becomes friends with Mason and uses this to override the brainwashing by Dragovich, implanting the mission to kill Dragovich, Kravchenko and Steiner. With Mason's help, Viktor stages an uprising to escape from Vorkuta and is killed in the process, while Mason did escape. Despite this, Mason still saw hallucinations of Reznov, who helped him in his mission to kill the three above.
Latest Games
Developed by Certain Affinity, Treyarch for WIN, DS, PS3, Wii, X360

Call of Duty : Black Ops is a first person shooter developed by

Treyarch

, and published by

Activision

. The game was announced on April 30, 2010 and released on November 9, 2010 for Xbox 360, PS3, Wii and Microsoft Windows. There was also a separate version developed for the Nintendo DS which was developed by

n-Space

.

Developed by Certain Affinity, Treyarch for WIN, DS, PS3, Wii, X360

Call of Duty: World at War is a first-person shooter video game developed by Treyarch and published by Activision for PC, PlayStation 3, Wii, and Xbox 360.
Share Viktor Reznov with others