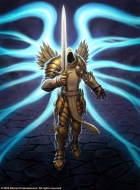 Tyrael is the Archangel of Justice who assists the hero in his quest and helps defeat Diablo. Tyrael is first introduced in Diablo III as a stranger who fellto Sancutary along with a falling star and lost his memories, save for recalling that he lost his sword which broke into three pieces as he fell.
Latest Games
Developed by Blizzard Entertainment for WIN, PS3, PS4, X360, XOne

Diablo III is a fantasy, role-playing game produced by Blizzard Entertainment, released for use on Microsoft Windows and OS X on May 15, 2012. It will be released for gameplay on Playstation 3 and XBOX 360 on September 3, 2013 and the in 2014 on the upcoming Playstation 4 console. Both regular and special editions were available for the original release and will likely be available for the home console release.
Tyrael Brainwaves
15th August, 0 replies

A new page called "Reaper of Souls" has been added to the Diablo III site; a minimalistic sight that...