The Donkey Kong Country series are side-scrolling platform games. Players take control of Donkey Kong and/or several of his friends including Diddy Kong, Dixie Kong, Kiddy Kong and Cranky Kong. The goal is to reach the end of each level while collecting items and ultimately defeat bosses, and finally, the game's antagonist.
General Gameplay
Donkey Kong primarily runs and jumps through levels, but also has other abilities, such as an offensive roll maneuver, ground pounding, swimming, swinging on vines, and blasting out of barrels. There are also other gameplay elements in some of the levels, such as riding in mine carts and avoiding dangers.
There are DK barrels found in the levels that provide Donkey Kong (or his friends) with a partner. In the original trilogy, players could switch between Kongs to take advantage of one's unique characteristics for a given situation, if necessary. In the Wii and Wii U versions, players always control Donkey Kong, and his friends are secondary helper characters who grant Donkey Kong with added abilities, such as Diddy's jetpack for hovering or Cranky's Cane for bouncing on dangerous terrain.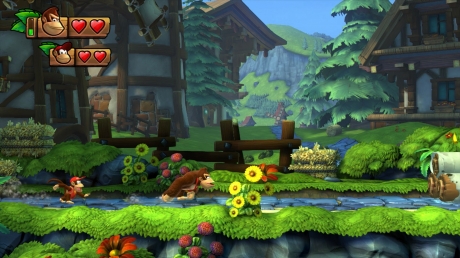 The Kongs can defeat most enemies by jumping on them but some are lethal and must be avoided or defeated in other ways such as tossing a barrel at them. When players are hit by enemies or dangerous obstacles they lose a life (or in some games, deplete their health meter) and when all lives are gone, they receive a Game Over screen and must return to the last save point. Players also lose a life when they fall into a bottomless pit or run out of air underwater in Tropical Freeze.
There are also hidden bonus levels which grant things like extra lives or puzzle pieces when the proposed challenge is successfully completed.
Helper Animals
The Donkey Kong Country series provides the Kongs with animal buddies who possess unique abilities. Animals that have appeared in the series include Rambi the Rhino, Squawks the Parrot, Expresso the Ostrich, Enguarde the Swordfish and Winky the Frog. These characters can provide the ability to ram enemies and objects, find hidden items, bounce on otherwise deadly enemies or help with maneuverability.
Game Map
Each game has a game map that displays each world, which contain several levels. Here, players can navigate between levels and worlds. At the end of each world, the Kongs will do battle with a boss enemy.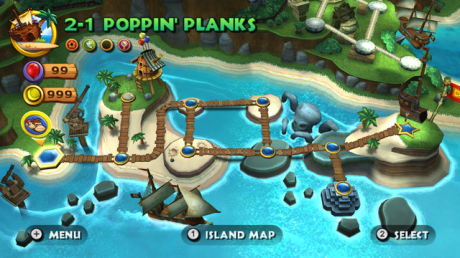 Multiplayer
Multiplayer is also present in the Donkey Kong Country series but differs between the original trilogy and the Wii/Wii U games.
In the early games, two players take turns playing, with player one tagging in player two, and vice versa. In the later games, players can play simultaneously, with one player controlling Donkey Kong and the other controlling one of his Kong buddies, who can also hop on Donkey's back to make some situations easier.
Collectibles
Bananas are scattered throughout levels for the Kongs to collect and 100 will grant an extra life. There are four K.O.N.G. letters scattered throughout each level in the Donkey Kong Country games. In the case of the original trilogy, they will grant an extra life; in the Wii and WiiU versions, they are a requirement for level completion as are the hidden puzzle pieces.
Shops
Some of the games feature a shop in which the Kongs can buy helpful items to use in levels. These include extra lives, temporary invincibility, safety from falling to their death, etc. Squawks, the parrot, can also be purchased to aid in finding hidden puzzle pieces in the Wii and Wii U versions.