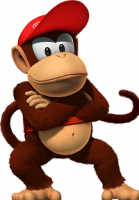 Diddy Kong is a character from the Donkey Kong Country series. He is Donkey Kong's best friend and nephew and helps him on many occasions as both a playable character and with special abilities such as his jetpack. He is shown to be a lot more nimble, as well as very quick, since he isn't as strong as Donkey Kong.
Diddy Kong first appeared in Donkey Kong Country as a playable character along with Donkey Kong. In Donkey Kong Country 2: Diddy's Kong Quest, he stars along with Dixie Kong, both as playable characters out to save DK. In Donkey Kong 64, Diddy can attack enemies with his tail, as well as with his guns known as Peanut Poppers. Diddy also appears in both Donkey Kong Country Returns and Donkey Kong Country: Tropical Freeze, this time as a helper character to DK, allowing the hovering ability of his jetpack. Diddy Kong has also been a kart racer in Diddy Kong Racing, Mario Kart: Double Dash!!, and Mario Kart Wii.
Diddy Kong Brainwaves
21st February, 0 replies

Our second favorite Nintendo monkey (unless you're a Cranky Kong fan) is back once again to join the...
Share Diddy Kong with others