Dragon's Crown is, at heart, a side-scrolling beat-em-up, but the game also has RPG elements. When players first begin the game, they choose one of six different characters to play as, with each one representing a unique class. After they choose their character, the player will begin in a town, which is the central hub for the game.
As you will undoubtedly notice, there is a small thief that joins you on your adventure, carrying a sack. This is Rannie, who helps you out by picking locks on doors and treasure chests. Rannie also can pick up stray treasure on the ground, allowing the player to concentrate on any enemies that may find their way into the line of fire. Players can also get mounts, which they can use to attack enemies, as well as provide an extra line of defense.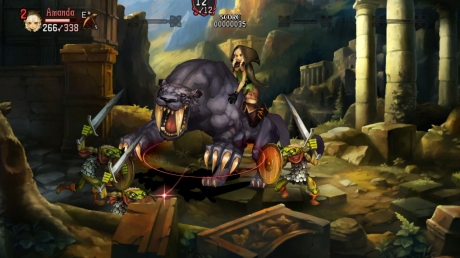 Game Difficulty
The game offers three different difficulty levels for players, with each one placing a level cap to prevent them from sticking to the easier difficulty. Normal caps the level at 35, while Hard goes to level 65 and Inferno, the hardest difficulty, caps at level 99. The player is able to switch the difficulty of the game at any moment while playing.
Town's Services
When you begin the game, you will appear in the town at Dragon's Haven Inn. This is where you choose your character, as well as recruit new allies, but there are other buildings in town that offer a myriad of services. These buildings are listed below:
Morgan's Magic Item Shop - Buy and sell items here, as well as appraise treasures found. If your equipment has been broken or needs repaired, it is done here.
Adventurers Guild - When you level up and gain skill points, you go here to assign them. This place is also where you can undertake quests.
Canaan Temple - The bones you find on your adventure can be brought here to be revived, which can join your party as AI companions. Likewise, if they die in combat, then they can be resurrected here.
Offline/Online & Companions
When players first play a character, they are limited to playing offline. In order to access the online portion of the game, the player needs to play through some of the stages before it is finally unlocked. This is designed to make it so a player understands their character before playing with others. Players will be able to player with three others online, with the ability to have each person pick the same character.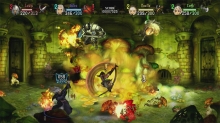 Playing offline is limited to just the single player, but the player can get AI companions to accompany them. Players can find bones throughout the levels, which belong to other players who have lost all their lives while playing online, that can be revived to actually be companions. Should these AI companions get killed during play, they can be revived with gold.
Secret Areas/B-Route
The first time a player goes through a level, there is one set path that culminates with a boss fight. Along the way, players may find secret areas that hold treasure or more enemies, either by touching the screen at certain spots on the PlayStation Vita, or with the right analog stick on the PlayStation 3.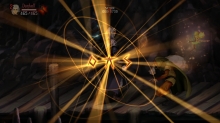 Likewise, upon visiting a stage again, a player may go through another route that will end up leading to a different boss from the first time. There are also runes hidden, which are unlocked in the same manner, that will bestow buffs and items upon a player.
Quests
There are quests that can be taken from the inn in the game's town, allowing the players to earn extra gold, experience and even skill points. These quests usually entail doing something like killing a boss, or even getting hit a certain number of times by an enemy's attack. Sometimes, finishing quests will unlock artwork from the game.