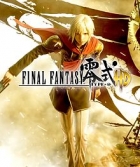 Final Fantasy Type-0 is an action role-playing game that is developed by Square Enix and was originally released on the PlayStation Portable in Japan. At E3 2014, Square Enix announced a high-definition remake, which was released on the Xbox One and PlayStation 4 on March 17, 2015 in North America.
The story depicts a continent torn by endless wars, each of the 4 countries trying to use the power of their crystal to subjugate the others. You play as Class 0, an group of elite students sent to protect Suzaku in near collapse after being attacked by Byakko.
Final Fantasy Type-0 Brainwaves
17th April, 0 replies

The latest Final Fantasy game, Final Fantasy Type-0 HD, has hit store shelves and sold 535,665 units...

10th April, 1 replies

Square Enix has announced that Final Fantasy Type-0 HD has shipped 1 million copies worldwide. The announcement...

17th October, 0 replies

Final Fantasy XIII was originally planned as a grand creation spanning three different games with varying...
Share Final Fantasy Type-0 with others