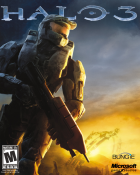 Halo 3 is a first-person shooter game developed by Bungie for the Xbox 360. It was announced at E3 2006 with a real-time cinematic trailer. It was released on September 25, 2007 in North America, September 26, 2007 in Europe and September 27, 2007 in Japan.
Halo 3 Brainwaves
11th July, 0 replies

I've always loved Easter Eggs, especially ones that remain hidden for several years. Recently, one that...

9th June, 0 replies

Microsoft's 2014 E3 conference is ongoing, and you can check out our live updates of all the announcements...

16th May, 0 replies

Microsoft have announced Halo 5: Guardians for Xbox One. Bonnie Ross, general manager of 343 Industries...