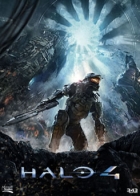 Halo 4 is a first-person shooter game developed by 343 Industries exclusively for the Xbox 360. The seventh installment in the Halo series, and the fourth major title, it was later released on Xbox One as part of the Halo: The Master Chief Collection.
The game begins 4 years after the ending of Halo 3, and marks the return of the Master Chief, a cybernetically-enhanced supersoldier. Set mainly on a Forerunner planet, where Master Chief encounters the collection of alien races known as the Covenant and ancient warriors of the Forerunner empire known as the Prometheans, Master Chief is accompanied by the artificial intelligence construct Cortana.
Halo 4 Brainwaves
27th November, 0 replies

Another Halo: The Master Chief Collection patch has been released for Xbox One users today, weighing...

30th October, 0 replies

With Halo: The Master Chief Collection fast approaching its release date, Microsoft have released a new...