Ryse: Son of Rome is an action/adventure game where players take on the role of the Roman General, Marius Titus, whose family is brutally murdered by Barbarians, as he seeks to destroy the Barbarian hordes to the North and any other enemies of Rome.
Gameplay features a mixture of action events, where players fight Marius's enemies in quick time event sequences, and strategic actions, where Marius can give commands to the troops beneath him.
Players can 'button mash' their way through combat or play more strategically, using precision timing to work their way through the campaign. The reward for playing the latter way is more impressive visual effects and death animations.
Combat
The game features a very brutal combat system and takes advantage of every part of the environment. It's all about speed and killing an enemy before he can kill you. You can use your shield to block and do combos to strike down multiple enemies. The game focuses on timing and execution, with players being rewarded for paying attention in fights rather than button mash.
Attacking an enemy when against a ledge or a fire will trigger one of the various animations and ways of killing him. Players also have access to a Focus attack, where you pound the ground and slow the movements of enemies around you. With this in play, you can inflict a lot of damage to enemies.
Executions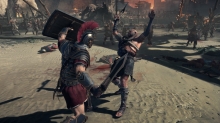 The game features over a hundred different executions. These are signaled to the player when the enemy is highlighted in a certain color. This requires the player to press the corresponding button on their controller to perform the execution.
These executions are unlocked over the course of the game, although the execution performed is random in battle. Successfully completing an execution sequence rewards the player with whatever perk comes with that execution, such as restoring health or increased experience.
Commanding the Phalanx
Marius can rally his troops to formation. Once in formation you are then able to give commands to your troops. For example, when in phalanx formation Marius is able to command the unit to take cover from incoming arrows, advance forwards on enemy positions, or throw spears at enemy troops.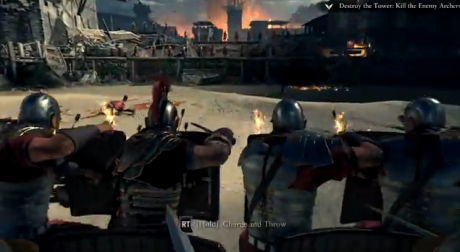 Multiplayer
Ryse will feature a cooperative multiplayer mode. In this mode, players can team up together to fight side by side in the gladiatorial arena, fighting off waves of enemies. There are a total of 11 maps available out of the box for players, with an extra one available for preorders. Players create their own gladiator and is able to customize them, using various armor and weapons they can earn by doing battle.
Technologies
Control Options
Players control Marius using the standard Xbox One controller, however players can also make use of Kinect's voice recognition to deliver Marius's commands to his troops.
SmartGlass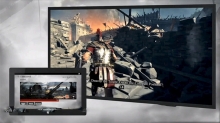 Ryse includes a number of Xbox SmartGlass features, including:
Can launch directly into campaign from SmartGlass
Control all aspects of your character, including inventory and upgrades directly from SmartGlass
Get help for Achievements, dependinging on your location and situation
Share videos of your gameplay, using the Game DVR, with your friends
Crytek Engine
The game is powered by CryENGINE 3 and introduces powerful features like Crytek's Virtual Camera which enhance the lighting, environment and effects to offer a more dinamic look. The advanced Vertex Animation system introduces new standards when it comes to realism and facial expresions.