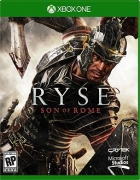 Ryse: Son of Rome is a hack and slash action/adventure developed by Crytek and published by Microsoft Studios. It was released as one of the launch titles for the Xbox One on November 22, 2013. Originally announced as a Kinect title for the Xbox 360, Ryse is now set to release exclusively on the Xbox One as a core title.
Embark on a journey of revenge, betrayal and divine intervention: Ryse: Son of Rome tells the story of Marius Titus, a young Roman soldier who witnesses the murder of his family at the hands of barbarian bandits, then travels with the Roman army to Britannia to seek revenge. Quickly rising through the ranks, Marius must become a leader of men and defender of the Empire on his quest to exact vengeance – a destiny he soon discovers can only be fulfilled much closer to home.
Ryse: Son of Rome Brainwaves
6th October, 0 replies

Crytek (Crysis, Far Cry and Ryse: Son of Rome), have admitted that it's becoming more and more difficult...

5th September, 0 replies

Ryse: Son of Rome, the formerly-exclusive Xbox One launch title has finally gotten a PC release date,...

7th August, 0 replies

Crytek's Xbox One launch title Ryse: Son of Rome will bring the ancient Roman action to PCs this Fall,...
Share Ryse: Son of Rome with others