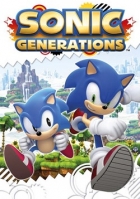 Two titles named Sonic Generations were released in 2011, one for PS3, 360, and PC and the other for 3DS. Both feature the same premise: a cross-over between two different versions of Sonic and their respective gameplay styles.
Sonic Generations Brainwaves
14th August, 2 replies

What if they made a Sonic Generations 2 where they take several levels from every sonic game ever made,...
Share Sonic Generations with others