Oscorp Tower
You'll start on a guided tour of Oscorp tower. You won't have control of your feet during this first section but you can turn your head to look around. You'll automatically follow Gwen around the building until some experiments break loose. Once you've donned your Spider-Man garb, you'll be ready to go.
The first thing you'll have to do before anything else, is perform a Web Rush. To do this, you'll be prompted to hold the appropriate button for your platform. Doing this at any time will slow time down, allowing you to look around and aim. This is very useful for both getting around as well as for combat. Time will slowly return to normal as you hold this button though so make sure you make your decisions in a timely manner. Aim for Gwen and then release the button to fling yourself toward her. You will grab her and swing her to safety. You will now get another semi-guided tour but with full control.
During this period, you will learn how to maneuver through the environment by swinging through a couple of areas by pressing the buttons as prompted on screen while watching all manner of machines and creatures destroy labs. Not long after, you'll have to learn to fight. You'll actually be given a rather nice arena to practice in. There will be a few sentries on the bottom floor, waiting for you to fight. If you have trouble with them, you can swing or use Web Rush (which slows time) to get back to this upper level where you will be safe.
This is important because unlike most third person action games, Spider-Man's health regenerates in a similar fashion to most modern shooters. As the screen becomes more red, you are getting closer and closer to running out of health. You do not gain health while you are actively fighting but you do gain health while running, swinging, or even shooting your web shooters. While you do gain strength this way, you gain health even faster if you are not moving at all. If you really need to gain health, stand still and shoot your web shooters to slow enemies while your health regenerates (or leave the area completely).
Hop into the pit and combat will start. This will teach you the basics of combat. You will have a strike button and an evade button. During this first fight, the game will prompt you to do both but later on it will not. The combat is rather similar to the Batman: Arkham games. There are some major differences but the two of note here are that when you are going to be attacked, instead of the enemy having marks over their head, Spider-Man will have his "Spider Sense" squiggly lines over his head. Also, if you know which enemy is attacking (they are still highlighted with a white aura), hitting them will not cancel their attack like it does in Batman. This is important because it means that you should ALWAYS evade when your Spider Sense goes off.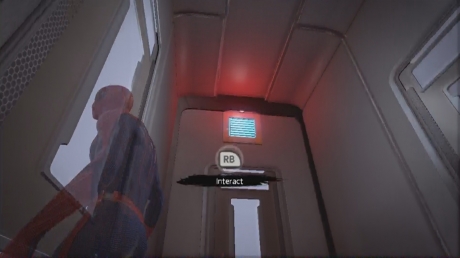 Destroy the sentries on the ground and then make your way back up to Gwen. Pick her up, head back into the pit and you'll see an open doorway with a green sign above it. Head into this doorway.
You'll walk past a window where Vermin and Scorpion destroy some equipment. This will bring you to a somewhat triangular room. Go left from there and you'll set Gwen down again. You have to deactivate the security measures to get Gwen further along. Activate the console right next to you and then Web Rush through the only hole in the laser field. Land on the other side and go through the door you just opened with the terminal.
You'll come to a long hallway with a fan on the far side. Usually this type of blue circle requires you to shoot webbing at it with your web shooters to deactivate it. Later in the game, such points will not always be spelled out for you so when in doubt, shoot. Shoot at this particular fan and it will stop, allowing you to walk through. It won't stay that way permenantly so hurry through there.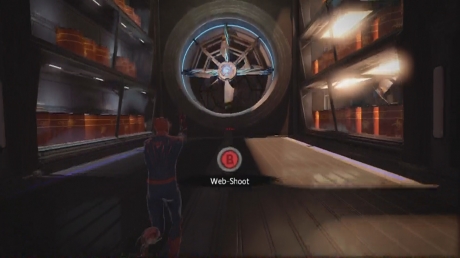 You'll go through this fan and end up behind a second fan. Stop this fan as well and go through. This will bring you up behind another laser fence. Use the terminal on this side to open the other door. This time, you can't set foot on the lower area so. Just Web Rush through like you did last time and land on the other side. Go through the open door and you'll come to a dead end. Or is it? Look up directly in front of you to find a vent. Web Rush up to that to open it.
This will put you in a large lab area. You'll have to fight a larger group of six sentries this time. This is when you will learn how to use Web Retreat. To do this, follow the button prompt on screen. It's important to note that Web Retreat will always bring Spider-Man back towards the screen. In some cases, like later boss fights, this may put you in harms way. It is far more accurate to use Web Rush in a lot of cases but when you need to move immediately, nothing beats Web Retreat.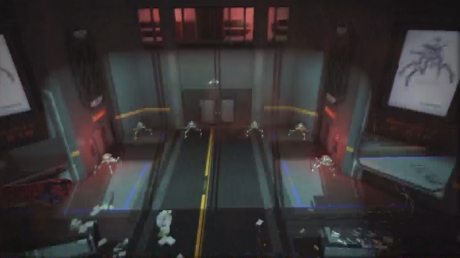 Web Retreat and then use Web Rush to attack the bots below. This will start the fight proper. At the moment, using Web Retreat and Web Rush is pretty fool proof so if you are having trouble, you can just keep using those. This will not work later on however when most enemies have some form of ranged attack. Fight with this group. You will not be prompted to strike your enemies but you will still be prompted to dodge. Kill the sentries in a real fight or just retreat and rush until they are dead. When they are, go through the door with the green sign.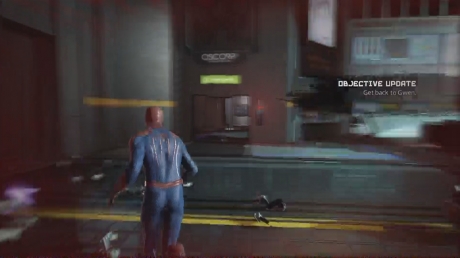 This will bring you back to the triangular room from the other side so head through and it will bring you back to Gwen. Instead of bringing her through the lasers, you're actually going to pick her up and bring her back to the room where you fought the second group of sentries. At the far side of this room will be the quarentine room. Go into it and put Gwen on the table. Don't forget your Osphone.
S-01
You'll be outside and able to swing around some. If you would like to explore, avoid the nearby park. It is possible to collect every comic book at this point or do it after you finish the game. When you are ready, check your mini-map for a star surround by a red circle. If you bring up your map with the select/back button, you can highlight the star (cursor over it and hit the evade button) and when you back out of the map, you'll see a blue column of light to direct you to your destination. If you get hit while swinging and start to fall,RELEASE the swing button and then press it again to continue swinging.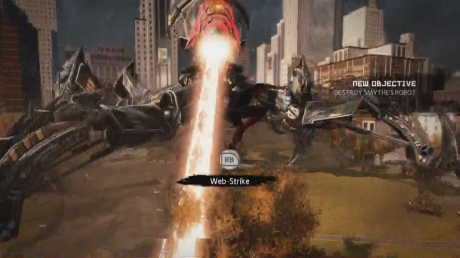 When you get there, a rather large robot will appear. This is S-01 and he doesn't like cross-species. There is an achievement here for not touching the ground during the entire battle so before the first cutscene finishes, be sure to hold down the swing button so that when it's over, you immediately start to swing. Hold this down for the entire fight and if you happen to get knocked to the ground, simply restart from the checkpoint. You don't have to restart the whole fight as long as the checkpoint was before where you touched the ground. If Spider-Man seems to hit the ground of his own volition and immediately springs up, itmaynot count as long as you were holding the Swing button.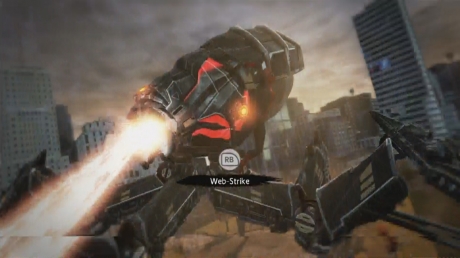 Start swinging around S-01 in either direction. It may benefit you to swap back and forth as S-01 becomes more aggressive (though perhaps only on higher difficulties, I'm not sure). As you swing around him, different parts of his body will glow red indicating that you need to execute a Web Rush on that part of the body. They will only glow red when you have them targetted so when you see it glow red, if you hit the Web Rush button, that's the part you will attack. At the start of the fight, you need to use a Web Rush on the front of the face and once on either side.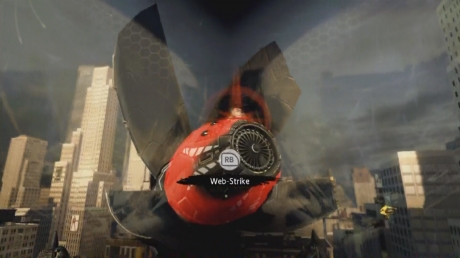 Once you've hit all three of those, he'll start using rockets to attack you and the only vulnerable spot will be at the back. His shell will open up to reveal a "soft" core inside. You'll need to try and swing around him to get this. If he's spinning too fast, try using a Web Rush on a building behind him to get to there faster. Once behind him, hit that spot. Make sure you keep holding the swing button through the cutscene.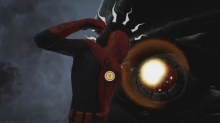 After the cutscene, you'll have to do a Web Rush on his face, twice. Each time you do, you'll attack one set of eyes. Keeping hitting the eye until you are prompted to dodge. Dodge and then continue hitting the eye until he destroys it. Do this once for each side. Once each set of eyes is destroyed, special mechanisms in it's legs will activate. At this point, he will turn very fast so keep on the move and hold that Swing button.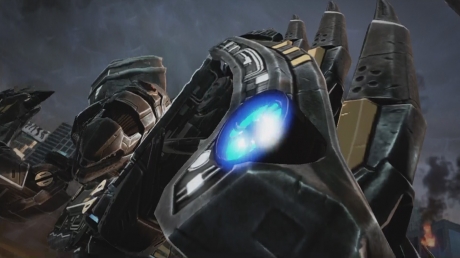 If you remember what I said earlier about those blue circles, then you might remember that you should shoot these with your web shooters. Swing around S-01 and shoot. You can just hold swing and keep pressing the shoot button. Spider-man will automatically shoot in between when he lets go of one swing and before he makes his next. You can also control this manually and let off the swing button at the apex of his swing and then start the next swing manually as well. Doing this, you can actually get more time between swings to shoot at the leg joints but you're going to be far higher in the air so it's likely that fewer will hit because you'll be hitting the top of the shell instead of the side of the joint.
Once you've destroyed all of these blue joints, you will have to perform one more Web Rush attack on his face to end the battle. Do that and you can let go of the swing button. Bam, two achievements and you're barely 15 minutes in.
*Achievement:Siege Averted
*Achievement:The Sky is the Limit