What is Match Day Mode?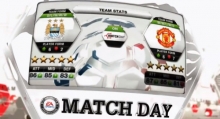 There is a brand new mode which is labeled as Match Days. Match Day which will have it's own tab on the menu is arguably the most interesting new feature to hit this game. While playing a match in this mode the commentators will talk about real-world news of your club. This will contain of any injury or suspension news and even team gossip. It will inform you have real-world club's fixture and the players current form - which will change the rating of the players in your games.
Match Day will also highlight which games are the games of the week from around the globe.