Ultimate Team is one the main selling points for FIFA, Ultimate Team has be going since FIFA Soccer 09 and has been improving every year but the main key features are the same. Here are some tips to make the most out of your team;
Chemistry is key:
It's not all about having the best players, having all players that link up, bright green lines will make your players perform better with each other. Also you'll need the right players in the right position with the right formation. It's pretty difficult to, because what you need is the following is either have the same players from the same team, or the same International players from the same league. Yes, you can take different internation players from different leagues but it will only be a orange line chemistry. You don't have to have a green line chemistry but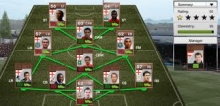 it will be so much better, for example; the passes will reach your players, players will make runs, goalkeepers will perform better, more likely to score from outside the box.
Have a Silver player upfront, when you've got this 100% full green chemistry up and running - throw a Silver player into the squad. They will preform better than a Gold at times, they are more likely to score as well. As for FIFA 12, I'd always have Grant Holt up front and he ended up scoring a ridiculous amount of goals. Even banging some in from the half way line! People couldn't stop him but then you'll get games when he can't do anything. It works in both ways.
*Also, you'll need a manager with the right formation or for example, if you have a whole English Squad, then an English manager will be fine. Not needing the right formation.
Trainers:
Try and buy the trainers, they will dramatically change your players. There are different levels again in Bronze, Silver and Gold. Obviously Gold trainers are the better ones. What these do is improve your players stats, each Gold card will offer a 15-20% improvement.
If you feel like your team is lacking with the heading stats, buy trainers to improve this, buying one trainer you won't notice much difference - but buy as many as you want! Buy all the Bronze, Silver and Gold. It all adds up, when you buy them all -your looking at 45-55% improvement; on that stat you want to improve.
*Remember you can buy as many trainers you want!
Fitness: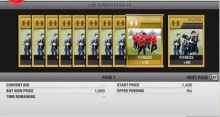 This plays a massive role in your games, everytime you play a game each players fitness will drop by a few. You need to keep this to at least over 75 each time, having 99 will be the best but also can be expensive on you. There are two ways, you can do this;
1. After so many games played, check your teams fitness levels. If you have noticed they have dropped below that mark, head to the Auction Shop and purchase a squad fitness; this will straight away boost your teams fitness to 99. (Depends on which level card, Bronze, Silver and Gold)
2. Make another squad, it doesn't have to be the best squad out there. Just chuck a few players together, to make a starting 11. Then for your bench and reserve place down your first team squad. Play a match without making subs, then when your game has finished. The players on the bench and reserves will be fully rested. This is the cheapest option, but could find yourself need to buy more contracts!
Formations:
Choosing a formation is essential, because your about to build a team around this - maybe you've chosen this so you can fit your favourite player into the squad. It can be pretty difficult picking a formation, because you need one that you'll like and won't get bored. If you enjoy speed go for wingers, if you like playing keep ball maybe go for a more defensive set-up. There are so many to choose from! You need to find the ideal one, might take some experiement by playing against a computer but you'll find one.
Suggest buying your players in the right formation, as this saves money and makes them player better. Buying formation can be expensive depending on which card you want, for all the Ultimate Teams, 4-4-2 are always expensive. So, you might come across a bargin player then forking out for an expensive formation card. Overall, it will work out cheaper, to buy your player in the right formation.
Have a Balance: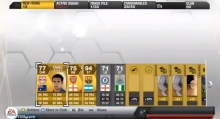 Each person has their own different way of playing the game, some prefer speed or some prefer strength. There are numerous ways to play each game. If you want a chance to win all games you come across, have a balance of players - like for example, if you need speed stick to the wings. Running up the line is easier and better, than running through the middle. There is more space on the wings, and when you get tackled it has a chance of going out for a throwing in your favour.
As it for attacking opitions, go for what your team needs. If you already have tones of pace, try a big man up front; aim to buy someone with good heading and jumping stats. They be banging in the headers. Also they will have good strength, meaning they can hold the ball. Then lay it to the sides for your wingers to run on to.
Even if you have all fast players, put some game changers on your bench. So, you can change the style of you play for the second half. It's best to have all opitions as possible!