FIFA is known for having a great online with many thousands signing into the servers to play it, but what can we expect this year?
As usual we can expect the normal head to head games. Where you pair of to random player and play a game of football. The head to head games, which is also know as Seasons, will be near enough the same as the previous game. When in each league you need to require so many points to stay in that league or try and get a promoted to the next league.There is a division titles for every division, and everytime you win a trophy or a league, it will be displayed in a virtual trophy case.
What have they changed about it this year?
You can have a 2 vs 2 matches within this Season, which allows you to pair up with your friend and compete against two other players. It still has the same outcome as you have 10 games to gain some many points.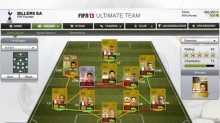 We can expect another visit from Ultimate Team, which is like doing a Career Mode online. Where each game gives you coins, where you can buy players, contracts, formations to make your ultimate squad. From the previous years we can expect something different from Ultimate Team as it has seasons included, so promotion or relegation is on the cards.