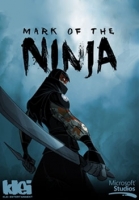 Mark of the Ninja is a side-scrolling stealth action game, developed by Klei Entertainment and published by Microsoft Studios through XboxLive network.
The game features fluid 2D animation with intense stealth gameplay. Observe your enemies from afar, manipulate them with your tools, and execute your plan with precision. But be careful - you're as fragile as you are powerful.
Mark of the Ninja Brainwaves
4th July, 0 replies

Makers of Mark of the Ninja and Don't Starve have revealed their next project, a turn-based tactical...
Share Mark of the Ninja with others