Dynasty Warriors 8 follows its predecessors, in that, it is a third-person hack-n-slash game that pits the player against thousands of troops on a battlefield in ancient China. The game boasts an impressive cast of 77 characters, with each one being unique in design and gameplay.
Game Modes
The Story Mode from Dynasty Warriors 7 returns in the game, with each faction having their own story that plays out the events of them historically, including the characters preset in Others. A new feature in the game is What-If conditions during stages, which changes some characters living when they should have died, as well as unlocking new stages. Players will be able to choose from a selection of characters, instead of having only one character to choose, like in DW7.
Also returning from previous entries is Free Mode, which allows the player to choose the stage and character they want to play as. Another addition is the ability to play as any of the factions in the battle, instead of only being able to play as one side. For example, in the Yellow Turban Rebellion, players will have a choice of either playing as the Yellow Turbans, or as the coalition forces.
The new mode for Dynasty Warriors 8 is Ambition Mode. In this mode, players are tasked with creating a base called the Tongquetai Tower and they need to build it up enough so the Emperor visits. Players will be able to participate in three different kinds of battle for this mode. Skirmish battles will allow you to get materials to build the tower, while raid battles will increase your fame. There are also large-scale battles, which will let you recruit new characters for your town.
Weapons
This game adopts the weapon system that was introduced in Dynasty Warriors 7. Every character in the game has a specific weapon type that they can use proficiently, which is called an EX weapon. They can also equip another weapon, either another EX weapon or a completely different one that is not an EX weapon.
New weapons can be gotten in a variety of ways, with one of them as drops when enemy officers are defeated on the battlefield. Players can also buy them from the blacksmith or find them inside of treasure chests on the battlefield. In Ambition Mode, the blacksmith can temper weapons, either fusing two of them or taking three weapons to create two new ones.

Each weapon is associated with one of three elements, either Heaven, Earth or Man. This is the Three Point System and it is similar to rock-paper-scissors in nature. Each one is both and strong against another of the three elements. In addition to this, each weapon can also have skills on them, such as increasing health or increasing the attack range as examples.
Characters/Skills
Dynasty Warriors 8 adopts the leveling system that has been prevalent in many games in the series, as well as those inside similar series. As the player kills normal enemies and officers, as well as pick up EXP scrolls laying on the battlefield, they will eventually level up. Leveling up allows their moveset to expand, gaining more normal and charge attacks, as well as new Musou ones.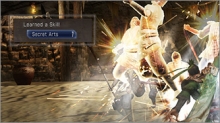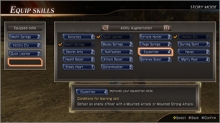 To learn skills, you'll have to go into battle and once certain conditions are met, a skill will be learned. Skills that are learnt by one character can also be equipped to another. Each skill has their own level, as well as a condition for unlocking them. For example, the Equestrian skill, is unlocked by defeating an enemy officer with a Mounted Attack or Mounted Strong Attack.
There are two different types of skills, Augmenting ones and Weapon ones. Augmenting skills are those that affects your character's stats and abilities, and as you level them up, their effect is enhanced, with them capping out at level 20. Weapon skills allow characters to use special techniques when they aren't using their EX weapons.