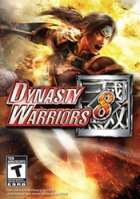 Dynasty Warriors 8 is the eighth main installment of the Dynasty Warriors franchise, and is developed by Omega Force and published by Tecmo Koei. Although it is a PlayStation 3 exclusive in Japan, it was released on Xbox 360 as well in the rest of the world.
The game takes place in the Three Kingdoms era, and follows the events of the kingdoms of Shu, Wei, Wu and Jin. Pitting one character against thousands of troops, it incorporates some new features, such as new combat elements (Storm Rush, Rage and Switch Counter), as well as features that were present in older titles. The game boasts the highest amount of playable characters in the franchise, with a total of 77.
Dynasty Warriors 8 Brainwaves
24th September, 1 replies

18th October, 0 replies

According to Siliconera, Dynasty Warriors 8 is getting an Xtreme Legends expansion. Not only that, but...
Share Dynasty Warriors 8 with others