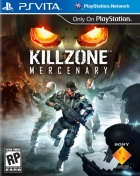 Killzone: Mercenary is a first-person shooter that was developed by Guerrilla Games and published by Sony Computer Entertainment. It is being released on the PlayStation Vita in Japan on September 5, 2013, in Europe on September 6, 2013 and in North America on September 10, 2013.
You are Arran Danner, a mercenary for hire, who is contracted to work for the ISA to help defend Vekta from being destroyed. Players will be able to work for both the ISA and Helghast, a first time in the series' campaign. The game will also make use of the Vita's touch screen and rear touch panel, allowing players a new way to play in the Killzone universe.
Killzone: Mercenary Brainwaves
31st March, 0 replies

Sony has announced the PlayStation Plus games for April. They are: Tower of Guns (PS3, PS4) ...

7th January, 0 replies

The PlayStation Vita steadily continues to build up a library of great games. 2013 brought with it a...
Share Killzone: Mercenary with others