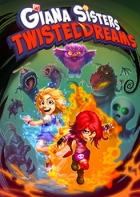 Giana Sisters: Twisted Dreams (aka Project Giana) is a platform adventure game developed by Black Forest Games for Playstation Network, Xbox Live, and Microsoft Windows via Steam. A successor to the 1987 game, The Great Giana Sisters, and 2009 re-imagining, Giana Sisters DS, the game was funded through Kickstarter.
When Giana's sister Maria is abducted to the Dream World and held prisoner by a giant dragon, it is up to her to rescue her sister. Having learned to manipulate her dreams, she must use this new ability to jump between dreams and transform herself into a "Cute" and "Punk" persona in order to deal with her inner conflict and fear.
Giana Sisters: Twisted Dreams Brainwaves
26th February, 0 replies

Nintendo remporte un procès visant à faire interdire la sortie de Great Giana Sisters,c'étais en 1987,25...
Share Giana Sisters: Twisted Dreams with others
Giana Sisters: Twisted Dreams