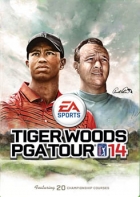 Tiger Woods PGA Tour 14 is a golf simulation game, developed by EA Tiburon and published by EA Sports for the PlayStation 3 and Xbox 360. The game includes the Legends of the Majors mode, where players are able to compete in tournaments from the 1930's through present day, and Career mode. Additionally, Country Clubs can now house up to 100 members and a customizable day and night cycle has been added.
Tiger Woods PGA Tour 14 Brainwaves
29th October, 0 replies

EA Sports posted the announcement on its website earlier. Apparently the ending of the partnership was...
Share Tiger Woods PGA Tour 14 with others