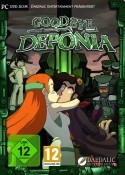 Goodbye Deponia is the third game in the Deponia franchise, and is developed and published by Daedalic Entertainment, for Microsoft Windows and Mac OS X. It is the conclusion to the trilogy that started with Deponia, following Rufus' adventures as he tries to stop The Organon from destroying Deponia, while also trying to escape from the junkyard planet himself.
Goodbye Deponia Brainwaves
17th June, 0 replies

From walking around the E3 show floor it is clear that there are a ton of great game franchises that...
Share Goodbye Deponia with others