The Order: 1886 is a third-person action/adventure game, with a heavy emphasis on shooting elements. You take on the role of a knight and member of a secret order. Your job is to protect humankind from a mysterious enemy that has been waging war against humanity for centuries in this timeline.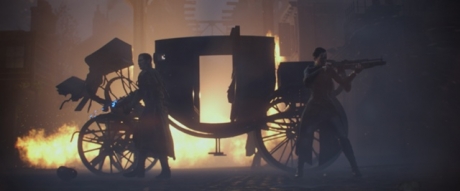 Weapons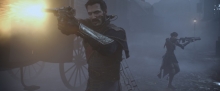 The game's unique setting - a Victorian-inspired steampunk world based in an alternate universe - will allow for varied and unique weaponry that will blend Victorian influences with futuristic technology.
So far, no weapons have been confirmed, but an idea of the kind of weaponry to expect is shown in the announcement trailer.
Quick-Time Events
Quick-Time Events (QTEs) have been confirmed to be in the game, as shown in the gameplay footage that was released on February 18, 2014. The creative director for the game, Ru Weerasuriya, explained that there are branching QTEs, allowing the player to experience a different outcome or perform another action than someone else.
The example shown has the main character, Sir Galahad, encounters a member of the Rebel faction. After a minor scuffle, the Rebel member pulls a blade out and the player presses a button to dodge it. This ends up with Galahad pinning the enemy to the ground, where the player gets an option to do a QTE near the head or one by the hand (only option available in the footage). Picking the hand option has Galahad picking up the same blade used against him and killing the Rebel member.