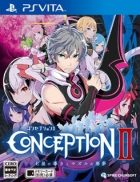 Conception II: Children of the Seven Stars is a role-playing game developed by Spike Chunsoft for Nintendo 3DS and PlayStation Vita. Although it is a sequel to Conception: Please Give Birth to My Child!, which was not released in English, Conception II is a standalone title and is not connected to the first games story.
The world of Aterra, where the Star God is worshipped, has been ravaged by monsters, who are formed in labyrinths called Dusk Circles, for 20 years. Youths who are bestowed with the Star Brand enroll in the Academy as Disciples. one such youth finds that he has such an abundance of Ether that could turn the tide of the war against the monsters.
Conception II: Children of the Seven Stars Brainwaves
4th June, 0 replies

Sony has revealed a new Flash Sale, which is running right now on the PlayStation Network. In this particular...
Share Conception II: Children of the Seven Stars with others
Conception II: Children of the Seven Stars