Kirby: Triple Deluxe is a 2.5D side-scrolling platform and the 15th game overall in the Kirby series. When Kirby's house and King Dedede's castle are lifted into the sky by a giant beanstalk to a kingdom known as Floarald, Kirby heads to the castle and witnesses the capture of Dedede by a spider-like creature. It is up to Kirby to rescue Dedede and put a stop to whatever plans this creature has in store.
New Perspective
Like all side-scrollers, Kirby progresses to the right of each stage, but unlike standard 2D side-scrollers the action takes place on two planes; both the foreground and background. To move between the two planes the player must use a Warp Star.
Health & Lives
Kirby loses health when hit by enemies and will die when his health runs out. He will also perish by falling into a bottomless pit. When Kirby loses all of his lives, it's game over. However, collecting 100 stars in the game will award Kirby with an extra life. Stars vary in color and each color is worth a different total amount: Yellow stars are worth just one while green stars are worth five, red are worth ten and blue are worth twenty. There is also a bonus game at the end of every level where players can gain stars and recovery items.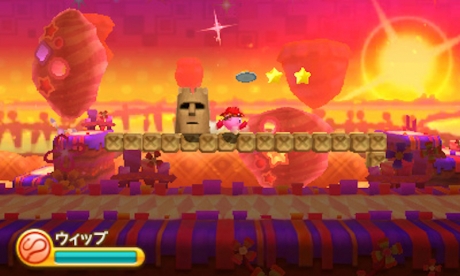 Game Modes
There are several modes in Kirby: Triple Deluxe:
Story Mode is the basic quest with Kirby traversing six worlds to complete.
Extra Mode is unlocked after completing the story mode and has King Dedede as a playable character. It is more difficult than the main story mode, with more enemies and the bosses having new attacks.
Kirby Fighters is a sub-game in which a player chooses one of ten available copy abilities for his or her Kirby and fights other Kirbys, either computer controlled or against three other players.
Dedede's Drum Dash has the player control King Dedede as he bounces on drums, collecting coins while progressing to the right of the screen to clear the stage. There is also a medal ranking, with medals awarded for things like no damage and obtaining all coins.
Arena and True Arena are boss-rush modes, with the former pitting Kirby against the bosses in the story mode and the latter against the boss battles in the extra mode.
Kirby's Abilities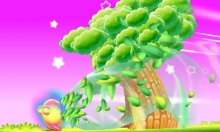 Many of the abilities from the previous games return, such as Kirby's basic jump, float and slide attack.
Additionally, Kirby's signature inhale move, which lets him devour and copy up to a total of of 26 different enemy abilities. In addition to returning abilities like the Beam, Hammer and Fire, there are five new ones: Beetle, Bell, Circus, Hypernova and Sniper.
Collectibles
There are also collectible Key Chains in the game which celebrate Kirby's history with images of classic Kirby sprites. There are over 250 key chains to collect and they can be traded via StreetPass.