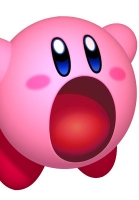 Kirby is the main protagonist of the Kirby series of games by Nintendo.
Kirby's first appearance was in 1992, in Kirby's Dream Land. Since then, he has made an appearance in over 20 games, from his own franchise to other Nintendo games, as well as media outside of the video game world. While his initial abilities just included the basic maneuvers like running and jumping, as well as inhaling and floating, it wasn't until Kirby's Adventure onward that he gained the ability to copy the enemies he swallowed.
Kirby Brainwaves
29th August, 1 replies

Today Nintendo announced that each Amiibo figure will cost $13, and that the first wave of Amiibos will...

29th June, 1 replies

Kirby and the Rainbow Curse isn't a traditional Kirby game. It is instead a sequel to 2005's Nintendo...

29th April, 0 replies

North American Kirby box art vs. Japanese Kirby box art. Values dissonance or cultural dissonance? Whatever...