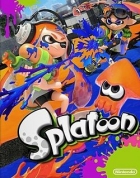 Splatoon is a multiplayer third person shooter being developed and due to be published by Nintendo exclusively for the Wii U in 2015. There can be up to eight players in a match, split between two teams of four. The game's title is a combination of the words, "splat" and "platoon."
In Splatoon, you can challenge your friends in chaotic four-on-four matches, in which the goal is to get your ink on as many places as possible and claim your turf, all while strategically submerging yourself in your team's colors and blasting your enemies.
Splatoon Brainwaves
6 days ago, 0 replies

Nintendo UK marketing manager Chandra Nair has stated that Splatoon's marketing campaign will be on the...

8 days ago, 0 replies

Nintendo will be showing off Splatoon at this year's MCM Comic Con in London. There will also be an official...

12 days ago, 0 replies

If you were unable to try out the Splatoon Global Testfire demo last week then you're in luck; Nintendo...
Share Splatoon with others