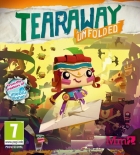 Tearaway Unfolded is a remake of Tearaway being developed by Media Molecule and due to be published by Sony for the PlayStation 4.
It is a 're-telling' of the original Tearaway, rebuilt from the ground up to utilise the DualShock 4's control options and to take advantage of the added power of the PS4 to deliver a larger game world in 1080p.
Tearaway Unfolded Brainwaves
13th August, 0 replies

Media Molecule's Tearaway holds a special place in our hearts here at gamrReview. The game managed...
Share Tearaway Unfolded with others