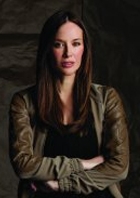 Jade Raymond was born in Montreal in 1975. After graduating from Marianopolis College in 1994, she studied Computer Science at McGill University.
After graduating from McGill in 1998, Raymond's first job was as a programmer at Sony Online Entertainment in the US. From there, she moved on to Electronic Arts, where she worked as Producer on the short lived The Sims Online.
Jade Raymond Brainwaves
26th February, 0 replies

It's that time of year again. Assassin's Creed fans are chomping at the bit, anticipating the announcement...
Share Jade Raymond with others