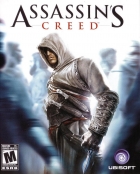 Assassin's Creed is an award-winning historical action-adventure open world stealth video game developed by Ubisoft Montreal for PlayStation 3, Xbox 360, and Microsoft Windows.
The bulk of the game takes place during the Third Crusade, with the plot revolving around a sect known as the Secret Order of Hashashin (Assassins). The player is in reality playing as a modern-day man named Desmond Miles, who through the use of a machine named the "Animus", is allowed the viewing and controlling of the protagonist's genetic memories of his ancestors, in this case, Altaïr ibn-La'Ahad, a member of the Assassins.
Assassin's Creed Brainwaves
24th January, 1 replies

An interesting spat is potentially developing between one of Assassin's Creed and Assassin's Creed II's...

5th August, 0 replies

Ubisoft has announced that they have plans to end the Assassin's Creed franchise at some point, and they...

4th February, 0 replies

In an interview with The Official Xbox Magazine, Assassin Creed III's 'mission director', Phillipe Bergeron,...
Share Assassin's Creed with others