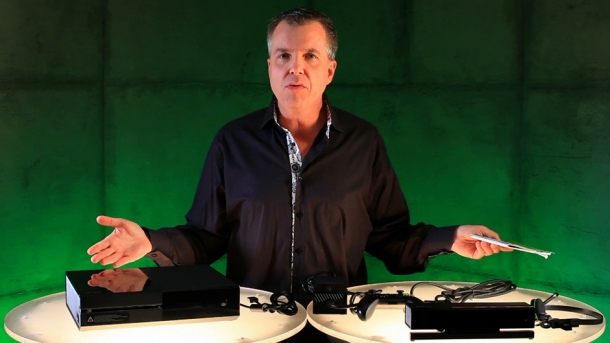 Earlier today, Microsoft posted a beautiful video showing off everything a beautiful person can expect when they open up the beautiful box containing their beautiful Xbox One and a sticker.

Throughout the video, the remarkably enthusiastic Major Nelson showed off everything that the "Day One edition" of Microsoft's new console would come with and says the word "beautiful" enough times to make a drinking game of it.

As well as the console and all of its necessary power cables, the Xbox One will also come with a headset, a single controller, the Kinect sensor and a sticker. All in all, everything's there that one would expect there to be. Still, it's impressive how optimistic Microsoft is after that controversial E3 conference, so credit where it's due.

In addition to all of this, a small list of facts about the console by Director of Product Planning Albert Penello have also been compiled on the Xbox Wire blog, just below the video. Interestingly, they mention that the controller has undergone "… over 40 design improvements, including a redesigned D-pad for accuracy, redesigned thumb sticks for better grip and control, new menu and view buttons, redesigned triggers and bumpers for accuracy and comfort, as well as exclusive impulse triggers for haptic feedback."

The Xbox One is scheduled for an American release this November, with a European launch to follow shortly after.

Trending Articles
6th January

When it comes to video games with deep stories, huge open worlds, and complex battle systems, nothing comes close to the RPG. Few genres are more diverse...

5th November

Fallout: Shadow of Boston and Fallout: The Ultimate Collection trademarks have been filed at the German patent office. The Office for Harmonization in...

17th February

Dragon Ball Z: Extreme Butoden has apparently been announced in the latest edition of V Jump magazine in Japan. It is a 2D fighter and will be released...

16th October

Pokemon X & Y released worldwide on Saturday to the joy of millions - 4 million of whom purchased the game within the first two days. However, some of...

21st January

As we promised during the weekend in the next weeks we will unveil Durango and Orbis. All the technical info you want to know about the next generation...