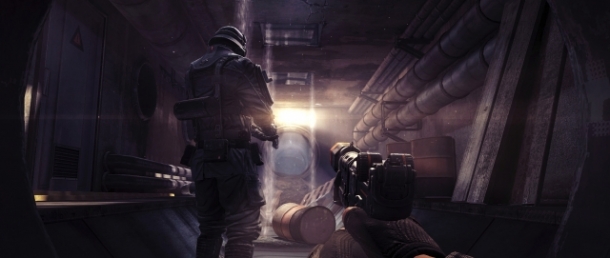 Wolfenstein is one of the godfathers of the FPS genre but it hasn't always made the transition to the modern era of gaming elegantly. However, Wolfenstein: The New Order seems to be the shot in the arm the series has sorely needed. My time with the PlayStation 4 version of the game at PAX East 2014 has been my personal highlight of the show so far.

The demo started on a battlefield in 1946 as the war still rages on. I assumed the role of a soldier who just barely escaped drowning. My first objective was to locate and destroy an automated machine gun turret that was pinning down my fellow soldiers. The game did not provide any onscreen markers leading me to my objective but the level design was rather linear and simple to follow. I fell through the floor of a downed aircraft, entering a subterranean bunker replete with Nazis. I started off with a Thompson machine gun but quickly switched it out for a German weapon which can be dual wielded and fired independently.

To read the full preview check out the link below.
Related Brainwaves
26th June

Bethesda's marketing boss, Pete Hines, has said that 2015 was the right year for an E3 press conference because of all the content the company wanted to...

18th June

It's been a long time since we had a good Wolfenstein game. 2001's Return to Castle Wolfenstein and its expansion were shockingly good, but the 2009 reboot...