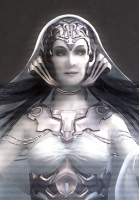 Juno is a member of the First Civilization and a member of the Capitoline Triad, alongside Jupiter and Minerva, that created the Pieces of Eden in the Assassin's Creed franchise.
During the Human-First Civilization War, the members of the Capitoline Triad hid underground, safely avoiding the fighting, as they researched methods of salvation from the First Disaster. Failing to find a solution, the catastrophe killed nearly all First Civilization and mankind.
Latest Games

Juno (Assassin's Creed) Brainwaves
17th February, 5 replies

Download Hack Sniper 3D Assassin 1.3 without Jailbreak with ifunbox http://ios-games.co/shop/sniper-3d-assassin-shoot-kill/ working...
Share Juno (Assassin's Creed) with others