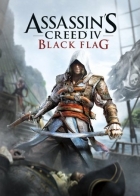 Assassin's Creed IV: Black Flag is an action-adventure game developed by Ubisoft Montreal for Windows Windows, Assassin's Creed, PlayStation 4, Xbox 360, Xbox One, and Wii U. It is the fourth installment in the Assassin's Creed series, and the first sequel to not feature Desmond Miles as a protagonist.
Black Flag follows the story of Edward Kenway, grandfather to Assassin's Creed III protagonist Connor Kenway, and the pirates as they try to realize their dream of a Pirate Republic. However, a lack of government, economy and an outbreak of disease bring the colony to collapse. Kenway seeks to find a solution, but is too late to stop the Templars from taking advantage of the situation and take control over the Caribbean.
Assassin's Creed IV: Black Flag Brainwaves
20 days ago, 1 replies

The Spike VGX (better known by its former name as 'the VGAs') awards nominations have been announced....

4th November, 0 replies

I failed the assassin's contract "A Slavers Business" and when i go back to the location of the contract...

30th October, 2 replies

Sony has unleashed a mammoth sized FAQ page on all things PlayStation 4, dubbed "PS4: The Ultimate FAQ",...
Share Assassin's Creed IV: Black Flag with others
Assassin's Creed IV: Black Flag