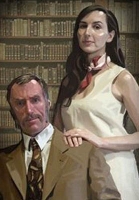 Caroline is a character that goes unseen in Portal 2, with the only traces of her being pre-recorded messages of her voice. She worked as an assistant to Aperture Science Corporation's CEO, Cave Johnson, which began in the 1950s and lasted until the 1980s. She had a lot of respect for Johnson and always stuck close by, even through properous times and the more troubling times.
In the 1980s, Johnson became poisoned after ingesting moon rock dust. This began his work on trying to find a way to store human consciousness in computers, so after his physical form was gone, his mind would still continue to live. As his time got closer to an end, the project wasn't complete yet. This prompted him to force Caroline to be inserted against her will, which was the creation of GlaDOS.
Latest Games
Developed by Valve Corporation for WIN, PS3, X360

Portal 2 is a first-person puzzle-platform video game developed and published by

Valve Corporation

. It is the sequel to

Portal

and was released on April 18, 2011 for Microsoft Windows, Mac OS X,

PlayStation 3

, and Xbox 360. The retail versions of the game are distributed by Electronic Arts, while digital distribution of the Windows and OS X versions is handled by Valve's content delivery service Steam. Portal 2 was announced on March 5, 2010, following a week-long alternate reality game based on new patches to the original game.
Share Caroline with others