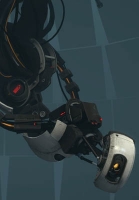 GLaDOS (Genetic Lifeform and Disk Operating System) is an artificial intelligence created by Aperture Science and the main antagonist of the Portal series. She is responsible for the testing and maintenance of the Aperture Science research facility and its Test Subjects.
In Portal, GLaDOS initially appears as a voice guide, designed to aid the Chell through the test chambers, but it quickly becomes apparent, through her words and actions, that her intentions are malicious in nature. As the story unfolds, it is learned that GLaDOS used a neurotoxin to kill all the scientists in the lab before the events of Portal.
Latest Games
Developed by Valve Corporation for WIN, PS3, X360

Portal 2 is a first-person puzzle-platform video game developed and published by

Valve Corporation

. It is the sequel to

Portal

and was released on April 18, 2011 for Microsoft Windows, Mac OS X,

PlayStation 3

, and Xbox 360. The retail versions of the game are distributed by Electronic Arts, while digital distribution of the Windows and OS X versions is handled by Valve's content delivery service Steam. Portal 2 was announced on March 5, 2010, following a week-long alternate reality game based on new patches to the original game.
GLaDOS Brainwaves
24th October, 3 replies

Inspired by some of the most iconic characters of all time, the set of 10 cards are bound to amaze your...

24th January, 5 replies

Guinness World Records reveals the results of a poll to decide the "Greatest Videogame Villain of All...