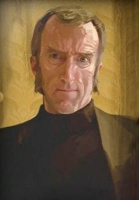 Cave Johnson is the founder of Aperture Science, which was a company that produced shower curtains before delving in science. The labs of his company are the settings for both Portal and Portal 2. In Portal, he goes unseen and unheard, but he was fleshed out in other sources. He is heard through pre-recorded messages in Portal 2, when Chell goes through an abandoned section of the Aperture Laboratories.
He switched his company from shower curtains to science, employing a lot of top-notch scientists. His ideas were wild and quite dangerous, such as replacing a person's blood with gasoline. Eventually, his company would create a portal device, although not the portable kind seen in the game. This device was not ready for the real world and was repeatedly delayed thanks to Johnson's distractions.
Latest Games
Developed by Valve Corporation for WIN, PS3, X360

Portal 2 is a first-person puzzle-platform video game developed and published by

Valve Corporation

. It is the sequel to

Portal

and was released on April 18, 2011 for Microsoft Windows, Mac OS X,

PlayStation 3

, and Xbox 360. The retail versions of the game are distributed by Electronic Arts, while digital distribution of the Windows and OS X versions is handled by Valve's content delivery service Steam. Portal 2 was announced on March 5, 2010, following a week-long alternate reality game based on new patches to the original game.
Share Cave Johnson with others