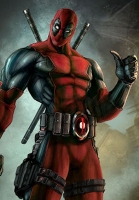 Deadpool is a well known comic book character who also appears in a number of different video games, including the titular Deadpool, where he is the main character.
Deadpool is most well known for his pyschotic nature which contrasts with his sense of humour. He frequently breaks the fourth wall and uses metahumour.
Deadpool Brainwaves
13th February, 0 replies

High Moon Studios has been hard at work creating a video game starring everyone's favorite merc with...
Share Deadpool with others