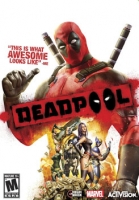 Deadpool is a third-person action game based on the Marvel character, Deadpool. The game is developed by High Moon Studios and published by Activision for the PlayStation 3, Xbox 360 and Microsoft Windows. Co-written by the former comic writer Daniel Way, along with High Moon Studios, and is based around Deadpool's mission to assassinate a corrupt media magnate.
The game features cameos by other Marvel characters, such as Domino, Wolverine, Cable, Death, Rogue, Psylocke, Mister Sinister and his Marauders, namely Arclight, Blockbuster, and Vertigo.
Deadpool Brainwaves
14th June, 0 replies

High Moon Studios' Deadpool is the kind of game that simultaneously generates excitement and worry. On...
Share Deadpool with others