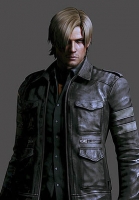 Leon S. Kennedy is a character in Capcom's Resident Evil franchise and a main protagonist in many of the main series games, such as Resident Evil 2, Resident Evil 4, and Resident Evil 6.
On his first day in the Raccoon City Police Department, Leon found himself in the heart of the infection outbreak. After his survival, Leon began to work for the U.S. government in anti-Umbrella missions.
Leon S. Kennedy Brainwaves
28th January, 7 replies

Usual choices but mine is probably Solid Snake - he's just so damn cool and you can really feel like...
Share Leon S. Kennedy with others