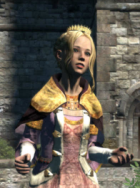 Aelinore is a NPC from Dragon's Dogma. She is the niece of the descendant of Leonart, who killed the dragon and united the land long ago, as well as the wife of Edmun Dragonsbane.
Born to the House of Biquard, Aelinore can trace her family line from a cousin of Godking Leonart, the great man who once defeated the dragon and united the entire continent. Aelinore was to marry Edmun, whom she had never met before the ceremony. The people of Gransys welcomed this, hoping that an offspring with the hero's bloodline would come soon, although it hadn't.
Latest Games
Developed by Capcom for WIN, PS3, PS4, X360, XOne

Dragon's Dogma is an action RPG developed and publshed by

Capcom

for the

PlayStation 3

and

Xbox 360

. The game is a fairly large RPG with a much more fleshed out combat system when compared to its main competitor,

The Elder Scrolls V: Skyrim

. The game has a unique pawn system that acts as online functionality in which you can hire other people's pawns from around the world to assist you in your journey.
Share Aelinore with others