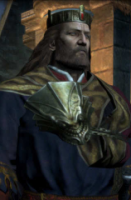 Edmun Dragonsbane is a NPC in Dragon's Dogma.
Edmun was once just a normal soldier until he awoke one day and had become an Arisen. Days later, a dragon attacked Gransys and with the help of some Pawns, he defeated the dragon. This made him a hero, as only one other Arisen had been able to kill a dragon. When the former duke fell ill, no one had any qualms about making Edmun the new duke. With him as the ruler, Gransys enjoyed a long period of peace.
Latest Games
Developed by Capcom for WIN, PS3, PS4, X360, XOne

Dragon's Dogma is an action RPG developed and publshed by

Capcom

for the

PlayStation 3

and

Xbox 360

. The game is a fairly large RPG with a much more fleshed out combat system when compared to its main competitor,

The Elder Scrolls V: Skyrim

. The game has a unique pawn system that acts as online functionality in which you can hire other people's pawns from around the world to assist you in your journey.
Edmun Dragonsbane Brainwaves
Share Edmun Dragonsbane with others