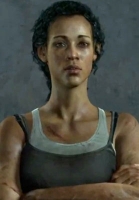 Marlene is the leader of the Fireflies and a minor antagonist in The Last of Us. A good friend to Ellie's mother, Anna, Marlene agreed to watch over the girl when her mother died. Some time later, Ellie and her friend Riley are bitten and Marlene learns that Ellie is immune the the virus.
When Marlene purchases a stolen weapon cache from Robert, Joel and Tess confront her and she agrees to return them if the two escort Ellie to the Fireflies at the Capitol Building. She then heads to Salt Lake City, where she is informed by the doctors that the unique mutation in Ellie's brain must be operated on, killing Ellie. She reluctantly agrees, but when Joel tries to escape with Ellie Marlene is killed.
Latest Games
Developed by Naughty Dog for iOS, PS3, PS4

The Last of Us is an action-adventure post-apocalyptic third-person survival horror game developed by

Naughty Dog

exclusively for the

PlayStation 3

. The game follows the story of

Joel

, a middle-aged black-marketeer, and

Ellie

, a brave teenage girl, as they work together to survive in cities reclaimed by nature, decimated by plague, and littered with gangs and other hostile survivors.
Marlene (The Last of Us) Brainwaves
Share Marlene (The Last of Us) with others